Viewpoints
Viewpoints is a series of panel discussions with local, female, industry leaders.
It is a platform with which to explore issues relevant to the North Texas art community.
Art & Community
Saturday, April 14, 11:00 am - 11:45 am
This panel will discuss how women are transforming their community through their art endeavors.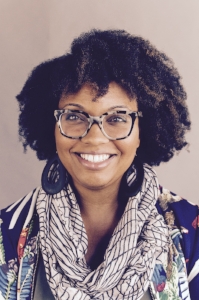 Dr. Lauren Cross, Moderator
Lauren Cross is an interdisciplinary artist, curator, and scholar whose work has been exhibited across the country. Cross earned her BA (2006') in Art, Design, and Media from Richmond, the American International University in London, England, her MFA (2010') in Visual Arts from Lesley University in Cambridge, MA, and her Ph.D (2017') in Multicultural Women's and Gender Studies at Texas Woman's University in Denton, TX.
Cross is a passionate advocate for diversity in the arts, founding WoCA Projects, a non profit arts organization that curates exhibitions and community arts programs that champion women artists of color.
Karen Blessen is a Pulitzer Prize winning journalist and artist. In 1989 she was the first graphic artist to be named as a Pulitzer winner. In the first decades of her career from 1973 to 2005, she worked as a free-lance artist and writer. In August of 2000, her life was disrupted and the organization 29 Pieces was born. What all 29 Pieces efforts have in common is the use of art as the power source for beating swords into plowshares and planting new seeds of peace.
Sunset Art Studios / Emily Riggert & Rachel Rushing
Sunset Art Studios is a social practice artist collective between Emily Riggert and Rachel Rushing. Through our work we operate a studio space, residency and gallery where we focus on object-making and the artistic process as access points for empowerment.
Riggert is an artist, educator and arts activist from Dallas, Texas. Her artwork is multi-disciplinary and includes sculpture, painting, and community organizing as ways to consider art as a social practice and medium for change. Rushing's individual practice is based in photography and visual culture exploring installation and participatory making.
Montoya Williams is a multidisciplinary artist who is always looking for ways to use art as a weapon, as a salve, and as a way to activate her community. Her work is centered on reconstructing black femme identity outside of white supremacy via exploration of African diasporic perspectives. Williams is a 2017 Nasher microgrant recipient, a Texas Biennial participant and a Nina Simone stan. She was born and raised in Dallas, Texas and received her degree in anthropology with a minor in photography from Howard University.
Art & Success
Saturday, April 14, 12:30 pm - 1:15 pm
The panel will discuss the challenges of being a woman in the arts and the specific tools that they have used to overcome these challenges
 
Lauren Smart is a journalist and critic. She is a professor of practice at Southern Methodist University and the faculty adviser to the SMU Daily Campus. Her work has appeared in The Dallas Morning News, Arts + Culture Texas, CultureMap Dallas, Where Traveler, Cowboys & Indians, and American Theatre magazine, among others. Smart recently worked as the arts and culture editor for the Dallas Observer newspaper. She developed and manages Storytellers Without Borders, a Dallas Public Library initiative that transforms high school students into community journalists using 21st century library resources. The initiative is funded by the Knight Foundation in collaboration with The Dallas Morning News. Smart has published poetry in several literary journals. She holds a master's in arts journalism from Syracuse University and bachelor's degrees in journalism and English from Southern Methodist University.
Danielle Georgiou is a multi-hyphenate artist who works in performance and video and is based in Dallas, TX. Her stage and video work deal with puzzles found in femininity -- vulnerability, deformity, and beauty. In 2011, she began a performance project called the Danielle Georgiou Dance Group, an ensemble-based dance theatre group who produces original dance plays. She is an active arts writer for various local publications, is the Interim Associate Dean for Arts and Communications at Eastfield College, and is completing her Ph.D. in Humanities at UT Dallas.
Consuelo Gutierrez is currently the Director of Programs & Membership at The Cedars Union. She was previously head of the Imaging Services Department at The Menil Collection in Houston. Gutierrez earned both a B.F.A. and an M.A. in Art History from the University of North Texas and is currently working toward an M.S. Information Sciences, focusing on imaging, archives, and digital curation.
Erin K. Murphy is the Manager of Exhibitions and Assistant to the Chief Curator at the San Antonio Museum of Art, where over the past four years she has organized original modern and contemporary permanent collection exhibitions. She previously served in positions at the Dallas Museum of Art and the Nasher Sculpture Center. She received a Bachelor of Arts in English from Texas A&M University and a Master of Arts in Art History from the University of North Texas with a focus on modern and contemporary art.
Willow Sanchez developed a passion for the arts at the age of six, studying at the Harlem School of the Arts and later the Dance Theatre of Harlem in New
York. When her family moved to St. Thomas, she joined the Ballet Theatre of the Virgin Islands.
After graduation, she returned to the mainland and became a professional ballerina with the Dance
Theatre of Harlem, annually touring Europe, North and South America and the former Soviet Union
for seven years, as a soloist with the main company. She earned her law degree from Stanford University. Since then, Willow has practiced law for over 20 years with experience in entertainment and business law, as well as intellectual property. Licensed in Texas and New York, she represents clients in the visual, performing, musical, and motion picture arts, as well as arts-oriented nonprofits and for-profits.